As the leader in the general insurance industry, Ceylinco General Insurance expresses its heartfelt thanks to the people for being crowned the 'People's General Insurance Brand of The Year' at the 2021 SLIM Nielson People's Awards, for an unprecedented 15th consecutive year! As a true voice of the people, this award reflects public perception about brands and as 'People's General Insurance Brand of The Year', Ceylinco General Insurance is closely intertwined with people's lives as a trustworthy and reliable brand that keeps its promises.
Commenting on the achievement, Mr. Patrick Alwis, Managing Director/Chief Executive Officer said, "We are truly humbled to receive this award for the 15 th consecutive year and are deeply grateful to people who vote for us year after year. Our unique insurance solutions, customer-centric culture and our unconditional support to people in times of crisis are the key pillars of our success, coupled with our skilled and professional team. This award really inspires our stakeholders both internal and external, amidst what has been a difficult year for all. "
The selection process for these awards consists of a nation-wide survey covering all 9 provinces with over 5,500 respondents interviewed one-to-one, making it representative, unbiased and relevant. Therefore, the winners of the People's Awards reflect the true voice of Sri Lankans from across communities, regions and social strata. The People's Award is the most coveted award for corporates because it reflects the voice of the people and indicates the brand they love and respect.
During 2020, Ceylinco General Insurance recorded a premium income of Rs. 20.1 billion and paid claims to the tune of Rs. 9.1 billion. The unprecedented amount of money provided in lieu of claim settlements and benefits reflect the company's continuing commitment to ensuring timely claim settlements to all customers, as Ceylinco General Insurance has always maintained an undisputed and unsurpassed reputation for speedy settlement of claims, most of them On The Spot.
Also, in an exclusive survey carried out on service providers by LMD magazine amongst the general public for over a period of 12 weeks in 2020, Ceylinco General Insurance had the honour of being chosen as the most popular insurer in terms of 'Service Excellence' in the general insurance industry.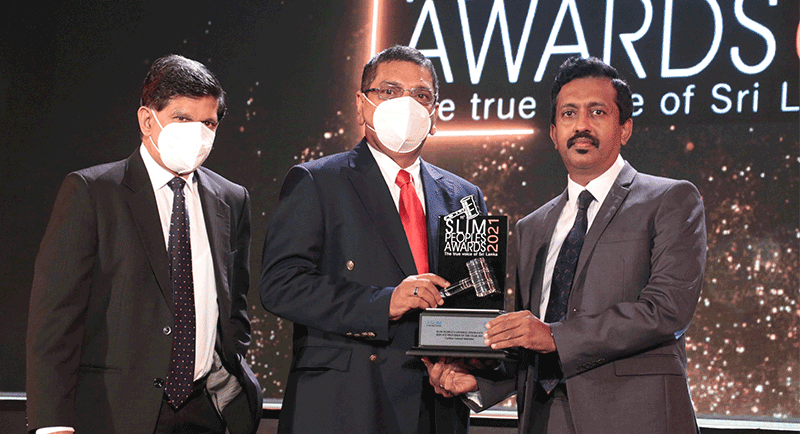 Mr. Ajith Perera, Director of Ceylinco General Insurance accepting the award together with Mr. Senaka Rajapakse, Deputy General Manager – Marketing